Manchester-based care provider unveils new residential home following a seven-figure loan from Unity Trust Bank
Published: 25 November 2019
Organisation Name: The Knoll Care Partnership
Region: North West
Following a seven-figure loan provided by Unity Trust Bank, the Knoll Care Partnership has recently opened the doors to its new purpose-built residential care home, Bowfell House, a £5million state-of-the-art care home for elderly individuals and those with dementia.
With a loan of £3.4million from Unity Trust Bank – the commercial bank with a social conscience – The Knoll Care Partnership has consolidated its services and property portfolio through the acquisition of Bowfell House, which will provide 40 en-suite bedrooms, peaceful landscape gardens and premium care facilities within the scenic setting of Urmston.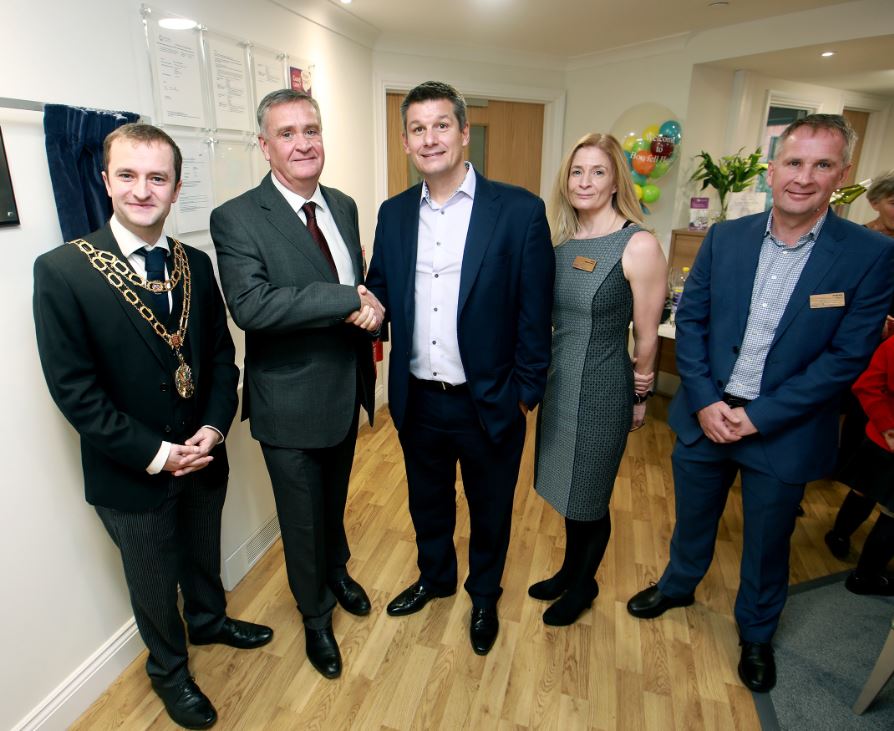 Rob Chilton, Mayor of Trafford, and Kate Green, Parliamentary candidate for the constituency of Stretford and Urmston joined representatives from Unity Trust Bank and Baker Mallett LLP, directors of The Knoll Care Partnership and members of the local community to celebrate the launch of Trafford's newest care home last week.
Speaking at the launch, Rob Chilton said: "I was delighted to be asked to open Bowfell House. This is a very high quality development at a key site in Flixton. I have no doubt that Bowfell House will be an asset to the local community for many years to come."
Sitting at the junction of Bowfell Road, Flixton Road and Brook Road, Bowfell House will give residents and their families, invaluable care and support within a safe, secure and modern environment, carefully designed by experts to ensure each resident can benefit from a tailored level of support. The site includes a hairdressing salon, library and designated areas for stimulation, relaxation or social interaction.
As well as offering easy access to amenities in the town, the care home will secure the future for 40 staff and create an additional 12 full time jobs in the Urmston community, and employees will be offered a series of training and development opportunities to encourage internal progression whilst ensuring a high level of care is given to all residents.
The Knoll Care Partnership has been working closely with Unity Trust Bank since 2017. The bank's dedicated Relationship Manager, Ian Heesom, has since supported the business and managed the release of funds throughout the development phase of the project, following an introduction by Baker Mallett LLP. Ian said: "At Unity Trust Bank, we want to make sure businesses making a positive social impact have access to funds for projects that will improve the quality of life within their local communities.
"Bowfell House is an exciting development by an experienced service provider with a 30 year reputation of offering high quality care and is meeting the continuing need for high-quality care homes in Manchester. It has been a pleasure working with The Knoll Care Partnership to help the exciting project come to life."
Matt Callaghan, Director of The Knoll Care Partnership, said: "Bowfell House is our biggest home to date and represents an incredibly exciting period of growth for us. All 40 bedrooms are set to be occupied within the next 12 months, showing a clear demand for this personalised service that has residents' wellbeing at its core.
"The support provided by Unity Trust Bank over the last two years has been invaluable for our development and will ensure that senior members of our community with advanced care needs, are able to enjoy a high standard of living in a beautiful environment, with the help of an experienced and dedicated team."