2020 results review from Alan Hughes, Chairman of Unity Trust Bank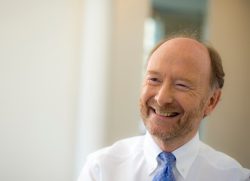 2020 Full year results
2020 was a tragic year for many people and a difficult one for most. Unity's priority was to offer support and unbroken service to customers and to protect our employees.
Unity's values and planned resilience have enabled us to succeed in this and to continue to grow our bank and the value we contribute to society, despite unprecedented conditions. Our pursuit of safe growth and sustainability is reflected in our capital strength and the performance of our lending: net lending rose £124m (up 26%) and deposits rose £305m (up 29%), both record highs.
The ultra-low Bank Rate was passed on to customers. Inevitably it reduced our interest, income and interest expense materially. The net effect of this high growth and the low rates was pre tax profit of £7.5m (2019 £9.1m), increasing the net asset value of Unity to £4.04 per share (2019 £3.80).
Based on this performance, your Board will recommend a dividend of 3.3p per share at the 2021 AGM (2019 3p).
We are very pleased with your Bank's resilience and the value of our service-driven purpose, but sad to have had it proven by such hard conditions.
Helping to create a better society
Unity is an independent commercial bank, founded in 1984 by trade unions to serve customers and the common good. Today, our purpose is unchanged. Our Social Impact Report 2020, which details key metrics aligned to the United Nations Sustainable Development Goals is also published today.
We believe that Unity is now a leading socially motivated UK commercial bank. Our purpose and values are more timely now than they have ever been. We plan to grow that for our communities and our shareholders.
The Board would like to thank all Unity's people for the hard work, commitment and resilience that contributed to 2020 results. We particularly thank our customers and shareholders for their unwavering support during this extraordinary year.
It is a pleasure to be able to report these results to you. Shareholders and employees can be justly proud of Unity, as a force for good.
Alan
Alan Hughes, Chairman
18 March 2021