A personal message from Alan Hughes, Chairman of Unity Trust Bank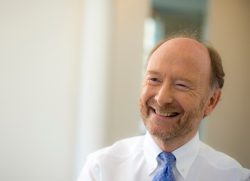 Purpose
Unity was founded 35 years ago by trade unions for the common good. This remains our purpose today. Our 2019 Social Impact Report is published alongside our Annual Accounts. It describes the way we help to create a better society. This too is available from our website: www.unity.co.uk/impact-report.
Outlook
At the time of writing this the outlook is unusually uncertain. External unknowns include the worsening health situation; the instability and disruption in international trading relations; the terms of future trade with the EU and the disruption those changes will bring; what to expect from the new UK Government; the limitations of monetary policy with interest rates back at the lower bound of 0.25%. This combination of much heightened risks causes us to take even greater care with the Bank's assets, people and customers. It does not affect our purpose.
Your Directors' priority is to continue to serve and support customers through any short-term disruption and to protect the sustainability of your Bank into the future, whatever the head-winds. We will continue to pursue growth, but only our 'safe-growth' that is particularly important for these uncertain times.
Unity's reputation and social impact is growing. We believe it will increase further as we become better known. We are investing in our services and technology to make Unity easier and more convenient for customers.
Directors
Finally, I could not send this letter without mentioning the terribly sad news of the sudden and untimely death of Ed Sabisky earlier this month. Ed served as a director of Unity since 2014. He was a force of nature. He made an outstanding contribution to Unity as well as being a considerable asset to Unite as its Finance Director. All our thoughts go out to his family at this difficult time.
Thank you for your support. Without it we could not help our socially minded customers deliver the benefits they do.
Yours sincerely,
Alan Hughes, Chairman
17 March 2020