A personal message from Alan Hughes, Chairman of Unity Trust Bank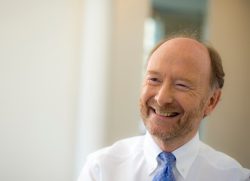 Unity's 2017 financial results are now available here. The 2017 Social Impact Report can also be viewed.
These are good results, they mark valuable progress and strengthening of Unity. We will recommend
payment of a dividend, 2.4p per share at the 2018 AGM, accordingly.
Profit after tax increased by 23% to £3.55m. Return on shareholders' equity was 6.1% (up from 5.4%
in 2016). In 2017 we supported our customers with £96million of new loans (a record), all for projects
that will deliver community, economic, social or environmental benefit. This supported over 700 jobs
directly and 30 community facilities.
New capital
I'm pleased to report that an investment transaction was completed on 5 April 2018. This additional
capital supports our growth plans. Our emphasis on social benefit is compelling – we will serve more
customers and increase our social impact.
The transaction raised over £11million of new capital, from existing shareholders and one new
investor: "Sustainability, Finance, Real Economies" ('SFRE'). SFRE is an investment fund initiated by
the Global Alliance for Banking on Values. We warmly welcome SFRE as it shares so closely Unity's
vision and our 'double bottom-line' of commercial success with social benefit.
This transaction has also allowed Unity to buy-back some shares from shareholders wishing to sell.
These include The Co-operative Bank which is now no longer a shareholder in Unity.
We are appreciative of your support. Together we can and will build on 2017's
success.
Yours sincerely,
Alan Hughes
Chairman