A personal message from Margaret Willis, CEO Unity Trust Bank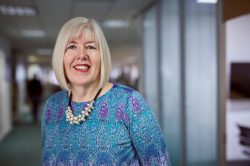 We are grateful for your continued support and want to give you regular updates on our progress.
Our last update to you was at our AGM and Socially Responsible Banking Conference in May 2017. We were delighted to see so many of you there; the Conference attracted over 150 delegates, with many guests interested in our mission to be a commercial bank with a social conscience.
We plan to hold our second Socially Responsible Banking Conference on 17 May 2018. We hope you can come.
Directors
We are delighted to announce the appointment of Susan Sternglass Noble as an Independent Non-Executive Director of the Bank.
Susan has had a 30 year career as a global investor in financial services companies. She is currently a Senior Adviser to The Investor Forum CIC, which works with investors to improve corporate governance in the long-term interest of the UK economy and wider stakeholders, and a Non-Executive Director and Trustee of Link Age Southwark, a charity tackling isolation of elderly people in Southwark.
Customers
Our loan approvals are up 37% relative to this time last year on a continuation of our low-risk credit appetite and only banking those who share our criteria of viability together with social benefit. This is social benefit amplified. The main recipients are engaged in housing, CDFIs, health and social care, education and, of course, trade unions. Customer numbers and deposit balances are also well up.
We track customer satisfaction closely. Necessary improvements to some working practices are still changing and we are acutely conscious of the disruption change can cause. Thank you for your continued patience in this regard. I'm pleased to be able to report that overall satisfaction, and response times are all improved and call volumes are reducing as customers take advantage of our investment in automation.
Performance
So you can see that we are attracting new business and growing – safely:
– profits to date are higher than a year ago;
– return on your capital is running over 6% (4.8% in 2016), despite lower interest rates;
– we continue to attract new customers, primarily through recommendation.
Our Market
The need for more ethical banking is compelling and is gaining traction, as seen in our results and the change in tone from some competitors.
At Unity, our focus on our people and our customers sets us apart allowing us to deliver on our 'Double Bottom Line' strategy. We were one of the first real Living Wage employers, have Investors in People Gold standard, and are a Fair Tax Mark business.
Social Impact
In the first half of 2017 our support created and protected 396 jobs and 238 bed spaces, and enabled 101 people to be housed. This helps fulfil our purpose to deliver positive social impact as well as sustainable returns.
Unity aims to become the 'bank of choice' for all customers who work to deliver social, economic and environmental benefits and share in our values and philosophy.
Operations
We continue to strengthen our investment in technology and operational resilience to combat the ever increasing risk of cyber security attacks and fraud.
We encourage all of our customers and shareholders to remain alert. Good housekeeping, awareness of the common risks, such as spoof emails and calls are often all it takes. Not all is what it purports to be on the web.
Also, we are working towards a paperless operating model, to help us deliver on environmental objectives as well as to improve efficiency and security.
Prospects
We can see that there is indeed demand for our ethical position and service. We've improved Unity's operational resilience and its profitability. Our ability to pay dividends has improved. Your board will not miss this opportunity to increase our impact. We continue to seek capital to fuel our growth and enable Unity to continue on this path.
Conclusion
In closing I would like to personally thank you for choosing Unity and sharing in our determination to make a real and lasting change. We remain ambitious and energised by the encouragement of our shareholders, the Trade Union movement, and business partners who enable us, through strong collaboration, to support customers to prosper and 'give back' to the communities we collectively serve.