Winner
Published: 15 June 2020
Organisation Name: Winner
Region: North East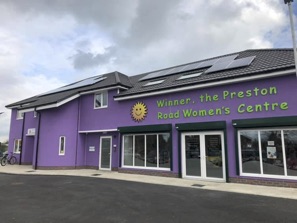 WOMEN'S CHARITY IS A WINNER WITH UNITY TRUST BANK SUPPORT
Unity Trust Bank is proud to continue supporting the award-winning Hull charity: Women Improving Now Not Ever Retreating (WINNER), the Preston Road Women's Centre. A funding package totaling £1.3million has enabled the charity to strengthen and broaden the support it can offer vulnerable women in and around the region.
About WINNER
WINNER provides vital services and opportunities for women through its female-only safe space at Preston Road Women's Centre, Hull.
The charity works to improve the quality of life for many women, who are encouraged to resume control of their lives, through the provision of counselling, legal advice and support for those experiencing domestic violence, as well as training and volunteering information, educational activities and advice on housing matters.
Since WINNER was founded, it has been able to support more than 4,000 women in the area and has engaged with thousands more across the city of Hull.
History and Success
WINNER was established in 1999, operating from one room in a local primary school. The team quickly outgrew this space as more and more individuals started using its services, and is being run by a number of inspirational women.
Hull City Council released two Preston Road properties to WINNER in 2000, which the charity invested £80,000 in to remodel. Painting the buildings in Women's Suffrage colours, these became the first centre dedicated to supporting females in the local areas.
Over time, the organisation has expanded its pioneering services to include a registered nursery, a family law firm, a youth group and a charity shop, all aimed at helping local women in need. It also runs its own property portfolio and a property management service in order to provide safe, affordable housing for women across the city to prevent them having to use hostels or other unsuitable accommodation.
Current services
Today, with over 40 employees and 35 volunteers, WINNER now owns, leases or manages around 200 units of accommodation. Income raised and generated from these properties is reinvested directly into services at the Preston Road centre. The charity's housing team has successfully housed more than 50 women each year for the last five years and has supported thousands more in need of help.
Domestic abuse incidents continue to rise, and there has been a significant increase in demand as a result of the Coronavirus pandemic. Where women could once go to families and friends for support, lockdown measures and a fear of transmitting the virus has prevented this from happening. In April, there was a 65% increase in women reaching out to WINNER for support, followed by an additional spike when the lockdown extension was announced.
Unity Trust Bank support
The charity has been working with Unity Trust Bank since 2013 through dedicated relationship manager, Michael Wicks, who identified suitable financial packages to ensure WINNER could continue making a positive difference to vulnerable women in the area looking for support.
Michael Wicks said: "Charities like WINNER are the cornerstone of local communities and we're proud to be able to support the valuable work it does to help vulnerable women and children.
"At Unity Trust Bank, we're dedicated to making positive social change in the communities we serve, so working with an organisation that has a strong impact on social welfare is incredibly important to us.
"Since moving into the new premises, WINNER has seen a 40% rise in activity through a combination of increased capacity and more awareness about the new centre and its services. It has been really inspiring to work with the ambitious team and support its impressive growth."
Lisa Hilder from WINNER said: "I came across Unity Trust Bank at a networking meeting and was keen to learn more about its services and lending. This was mainly because I was impressed by how well they understood the charitable sector and could see how much value was placed on the social impact created by organisations like ours.
"As well as being able to provide competitive lending solutions, our relationship manager really understood our vision for the business and the community we serve."