Cradan Ltd (Airth Pharmacy) & Eildon Pharmacy
Published: 22 May 2020
Organisation Name: Airth & Eildon Pharmacy
Region: Scotland
Former colleagues take over two Scottish village pharmacies following funding from socially responsible bank Unity Trust Bank
Two village pharmacies in Scotland have new owners thanks to a funding package from socially responsible bank, Unity Trust Bank.
Following the retirement of the previous owner of Eildon Pharmacy in Newtown St Boswells in the Scottish Borders and Airth Pharmacy in Falkirk, two former colleagues have taken over the respective businesses.
John McDougall, a community pharmacist of 20 years, is the new owner of Eildon Pharmacy having worked there since 2013 and John Porter, a community pharmacist since 1988, has taken over Airth Pharmacy where he has been based for 12 years.
Retail pharmacies are engaged more than ever in providing healthcare services in local communities and with Eildon and Airth being the only pharmacies in their respective villages, they are highly valued and relied upon.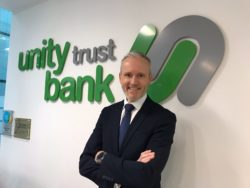 Scott Hutchinson, relationship manager at Unity Trust Bank, said: "We align our operations with the UN's Sustainable Development Goals, which include good health and wellbeing.
"Our support and funding of the pharmacy sector will have a positive impact on society through the maintenance of community health facilities. Pharmacies are often seen as a first port of call for health delivery, taking pressure off GP services."
In addition to dispensing medicines, pharmacies offer a range of services including minor ailments schemes and independent prescribing so that people can access same-day treatments.
John McDougall said: "We are delighted with the support we have received from Unity Trust Bank. They are a good fit for a community pharmacy like ours due to their mission to create a better society and their commitment to positively contribute to the community."
John Porter said: "We operate in a commercially successful way, but with a social conscience, and Unity Trust Bank's ethical lending policy was most closely aligned with the way we run our pharmacy. Their support has been invaluable."