Volunteer Centre Edinburgh
Published: 16 October 2015
Organisation Name: Volunteer Centre Edinburgh
Region: Scotland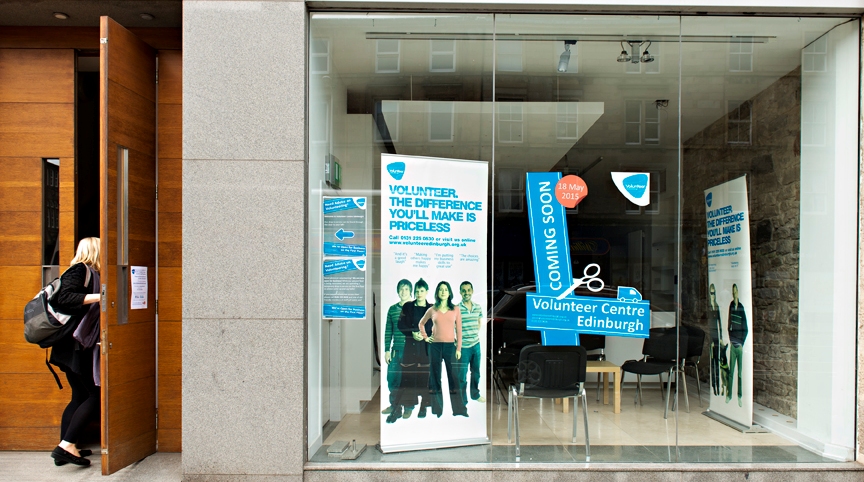 Volunteer Centre Edinburgh (VCE) inspires and enables over 30,000 people a year to volunteer, and supports organisations in providing volunteer experiences. Facing relocation from rented offices, VCE wanted a permanent 'shop front' base to increase visibility. VCE showed the ability to generate income to repay a loan, so Unity took an innovative approach, providing a loan as part of a 100% loan finance partnership with Big Issue Invest Scotland, to protect the charity's cash reserve.
VCE's capacity to deliver contracts and projects has increased, with greater sustainability and more resource focused on delivering front line services. The community is benefitting from the extra guidance and support given to volunteers and the increased footfall in the local area. Stronger connections in the third sector have brought greater access to volunteers, information, training and rentable space.
Harriet Eadie, Chief Executive of VCE said "The new offices are a superb base for Volunteer Centre Edinburgh and will have a big impact on how we continue to support and develop volunteering in the city, as well as enabling us to become a more sustainable organisation. It's really exciting to have a  presence in the heart of Edinburgh and we've already seen an increase in drop-in enquiries. This would not have been achieved without the continual support of Unity, both in offering us a competitive loan and introducing us to Big Issue Invest Scotland."
This deal was a finalist in the Social Enterprise UK 'Investment Deal of the Year' award 2015.