Durham care centre set for the future
With strong sector and business experience, together with a real passion for the provision of high-quality healthcare, Elaine Reay has been managing the operations of the Langley House Care Centre in Durham for the last four years, through her consultancy Resolve Care.
Following a £650,000 funding package from Unity Trust Bank, Elaine has successfully been able to acquire, renovate and extend the 26-bedroom property to 29 bedrooms.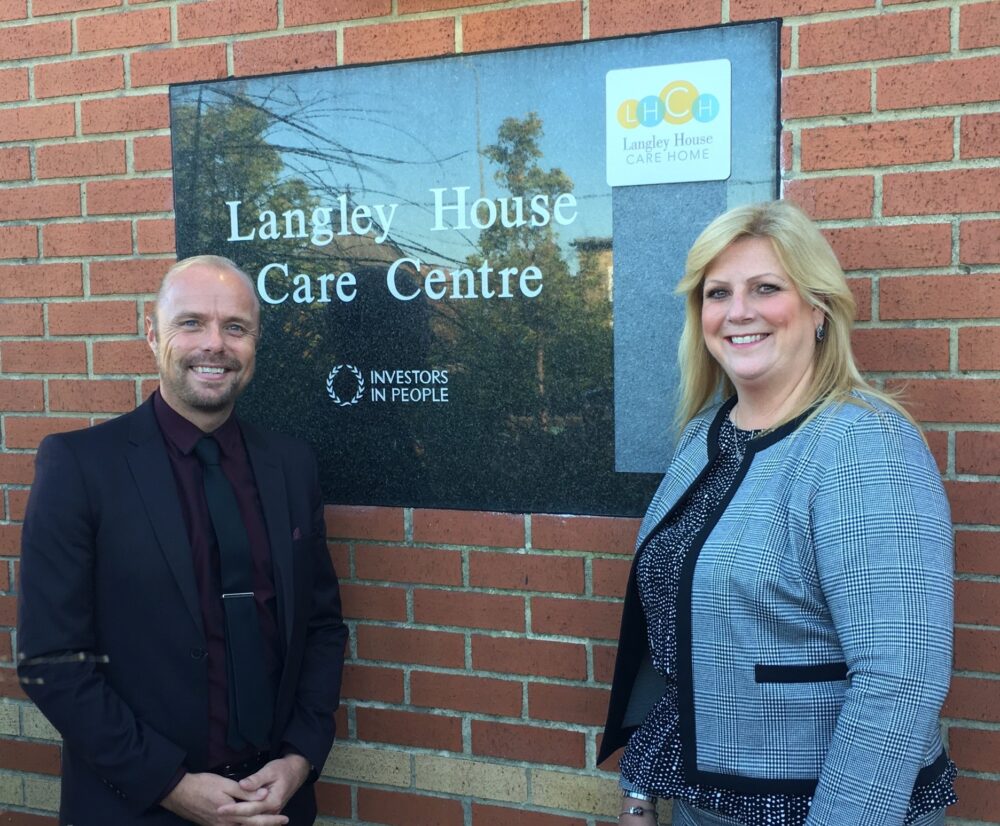 Improving levels of care
Langley House was purpose built for Durham Aged Mineworkers Housing Association (DAMHA) in the early 1980s, as a registered 26-bedroom home for elderly people requiring specialist care for issues, including dementia and physical disabilities.
In 2013, after a Care Quality Commission report finding that the home 'required improvement', DAMHA appointed Elaine Reay through her consultancy Resolve Care to assess the future of Langley House due to low levels of occupancy and financial under performance.
Having originally trained and worked as a nurse, Elaine left the NHS in 1996. She moved to the private sector where she advanced her career to a senior level. There, she worked with over 30 struggling, underperforming care homes that needed to be considerably improved and/or rescued.
Founding Resolve Care
With over 30 years' experience in the healthcare sector, in 2008, Elaine established Resolve Care. She wanted to provide bespoke care planning, management and consultancy services for a range of homes across the North East. These had been given notice of poor performance, were in administration, or had been restricted from taking on any new residents.
Elaine used a variety of operational and strategic measures to improve standards and to increase occupancy across Resolve Care's portfolio. This included liaising with administrators and city councils, working with senior management to identify deficiencies, increased training for management teams, as well as renovation and development works. These measures were very successful. They resulted in improved care standards and financial performance, ultimately saving homes from closure or damage to reputation.
Elaine was appointed to improve its services and saw its potential for improvement and growth. She intensely managed Langley House through a significant period of change. It involved a staff re-organisation, a marketing refocus and liaising closely with the regulator and the contract holding local authority.
Elaine and Resolve Care were instrumental in turning around the future of the care home. Through their hard work, they improved care services, increased occupancy and created additional jobs whilst building closer links with its community.
Run by a 35-strong, committed team, Langley House is at full capacity. At its most recent inspection in December 2019, maintained its status as operating consistently at a 'Good' level across all areas. In addition, the CQC commented that the home was consistently managed and that leaders and the culture they created promoted high quality, person-centred care which achieves good outcomes for people.
The need for quality care
Recent research from the Office for National Statistics (ONS) and elderly care charity, Independent Age reveal the urgent need for high quality care for the elderly and access to expert medical services in the UK.
Statistics show that people are living for longer. The ONS predicts that the number of over 85s in the UK is set to double. Many people are spending their later years in ill health (up to 13 years, according to Independent Age).
These figures reinforce the need for companies like Resolve Care to work collaboratively with care homes to increase occupancy levels and boost levels of care to ensure people spend their later years in welcoming, comfortable and caring environments.
Unity Trust Bank Support
Langley House has been working with Unity Trust Bank relationship manager Michael Wicks. Michael works closely with his clients to ensure they (and their businesses) receive the most suitable financial package for their needs.
During 2018, Unity Trust Bank provided an initial loan of £500,000 to enable Resolve Care to purchase the property. It will also help maintain the quality of care at Langley House and to continue to offer a full and varied programme of activities and services for residents. The property and business has now increased in value. Elaine's hard work to improve its facilities and increase occupancy.
Unity Trust Bank then provided a further £150,000 in May 2019 to support the addition of three further bedrooms. This allowed Elaine to improve the overall facilities of the building, as well as create additional capacity.
Unity Trust Bank recognises the pressure and challenges faced by organisations like Langley House that provide invaluable social care. The ethical bank is committed to providing the right level of business and financial support for the care facility. This ensures the business can look to the future and continue to make a difference to society.
Sound business advice
Elaine commented: "A key part of our community, Langley House offers residents a home from home experience.  I am incredibly proud of how much it means to our community, our residents and our staff.
"I am very grateful to Unity Trust Bank, not just for the loan but also for the sound business advice and care they took to understand my vision for the future of Langley House."
Michael Wicks at Unity Trust Bank, said:
"At Unity Trust Bank, we want to make sure organisations making a positive social impact have access to funding solutions. The finance will help them continue to improve the quality of life within their local communities, and expand their business and services.
"We are proud to have been able to help Elaine realise her dream of acquiring an excellent care home and growing business. The business is right at the heart of its local community. People know they are in safe hands and have access to the best possible care. The deal has allowed her to provide a positive social impact regionally. Plus, it's increased the profit of her business and we're proud to have been a part of this."
Future plans
With her healthcare and business expertise, Elaine has exciting plans for the future.
Three additional bedrooms have now been added to Langley House. Elaine is now looking to expand the number of services it provides further. She wants to offer even more opportunities and activities for residents. Extending services into the local community, older local people would also benefit from enhanced care and support within their own homes.
Separately, Elaine is actively looking at further acquisition opportunities in the North East. This is part of a longer-term plan to build a wider healthcare group. It will offer a consistent level of compliance and high-quality care services across the region.
About Unity Trust Bank
Unity Trust Bank was founded on a vision to create a bank with a social purpose. It aims to meet the needs of its customers and helps to enrich society.
For over 35 years, Unity Turst Bank has offered banking services to customers. The core purpose of Unity Trust Bank is to support organisations that are socially responsible. It works with businesses who share its values and philosophy of contributing positively to economic, community and social change. We work to support job creation, educational training, building social housing or other positive community initiatives.
Unity Trust Bank, a socially responsible bank, was shortlisted as a finalist in the 'Most effective overall customer experience initiative' category at the 2019 Financial Innovation Awards, presented by The London Institute of Banking & Finance, which recognises some of the most innovative companies in the banking and finance sector.
The bank is a Real Living Wage employer and a Fair Tax Mark business. It is also a Women In Finance Charter signatory and a member of the Banking Standards Board. Plus, it holds the Investors in People Gold standard.