Fair Tax Week is a UK-wide recognition of the companies and organisations that are proud to promote responsible tax conduct and pay their fair share of corporation tax. Fair Tax Week 2022 is running from 11th – 19th June, incorporating Tax Justice Sunday on 12th June.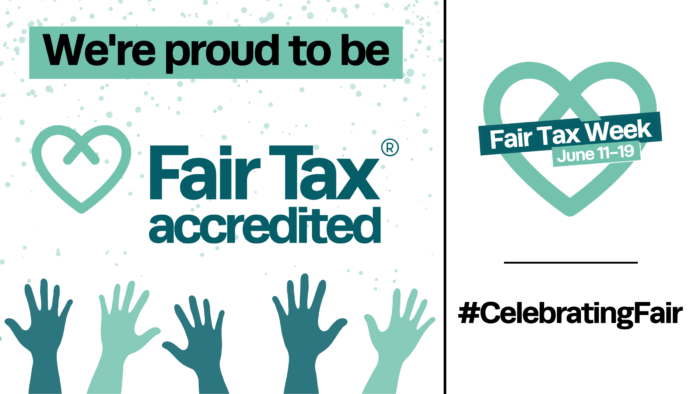 The purpose of the week is to champion a level playing field for businesses. It will also raise awareness of how corporation tax is an important source of revenue for public services – and how local areas and individuals can play their part, contributing to a fairer economy for all.
So why is Fair Tax Week a key date on the calendar for Unity Trust Bank?
Fair Tax Week allows Unity Trust Bank to show its commitment towards creating positive change. It's also a valuable opportunity for us to demonstrate that we are doing the right thing and paying our fair share of tax.
Our social responsibility
Having the Fair Tax accreditation and being fair and transparent with the tax we pay is ethical and therefore a key part of our overarching social mission: we only lend to organisations that contribute towards wider economic, social or environmental benefit.
We were also the first bank to be accredited as a Living Wage Employer and given the title of the UK's first Carbon Literate Bank, recognised by the Carbon Literacy Project.
Raising awareness of our commitment
It's also vital to acknowledge that fairness in tax is an issue which concerns people in the UK. Research by Social Enterprise UK revealed that over two-thirds of the public want to celebrate businesses that can demonstrate they pay the right amount of tax, and would rather shop with a business or work for a business which can prove it's paying its fair share of tax. According to the most recent 'Attitudes of the British Public to Business Ethics 2021' survey by the IBE, the British public believes that corporate tax avoidance is the most important ethical issue for the ninth year in a row.
The Fair Tax Mark is the gold standard of responsible tax conduct – and through our celebration of Fair Tax Week, we can communicate our stand clearly to everyone who comes in contact with Unity Trust Bank.
Playing our part in a fairer economy
Dominic Wade, Chief Financial Officer at Unity Trust Bank explains the significance of Fair Tax Week. "As a socially responsible bank, we seek to be transparent in everything we do – matters of taxation are no different. Unity was established as a bank to promote the common good, and we believe a fair tax system is vital for society to thrive.
"Businesses have a duty to pay a fair share and to invest in the UK economy and society as a whole. Fair Tax Week is a great opportunity for us to raise awareness, and demonstrate how we're leading the way on tax transparency contributing towards a fairer economy."
Fair Tax Week 2022 runs from 11th – 19th June and will highlight events and webinars through its dedicated webpage and via the Fair Tax Foundation social media channels.