GSD Care Ltd
Published: 29 January 2021
Organisation Name: GSD Care Ltd
Region: North East
Family-run residential care group in Lincolnshire expands following seven-figure funding package from Unity Trust Bank.
Family-run GSD Care Ltd in Lincolnshire has added a third residential care home to its portfolio following funding from Unity Trust Bank.
Gosberton House, in the village of Gosberton, was acquired by Kam and Kully Dhaliwal and marks the couple's first step into nursing care.
It joins Brun Lea in Spalding and Bank House in Gosberton, which provide specialist dementia care, and have been refinanced as part of Unity's funding package.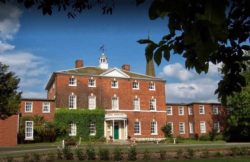 All three homes, which employ more than 160 staff, are within a six-mile radius and offer idyllic settings for 96 residents, although the couple are planning to increase this to 101.
Mr Dhaliwal said: "We were delighted to purchase Gosberton House which has been trading for 30 years and has a good reputation. It is set within vast grounds and has its own lake which is amazing.
"Unity have been brilliant. We chose them because they're an ethical business and their ethos resonated with us.
"They have a personal touch and took the time to understand what we're doing. This year I have spoken to my relationship manager at Unity more than I had to anyone the whole time I was with my previous bank.
"At other banks underwriters look at things on paper but we were able to talk about our business in person and explain what we're about. Unity is a bank that listens."
Kam and Kully Dhaliwal moved into the care home sector 11 years ago when they were looking to invest equity from their family home.
Mr Dhaliwal, who works in the motor industry, said: "We wanted to do something diverse which would supplement our lifestyle.
"We bought Brun Lea, a quaint, homely bungalow and then Bank House, a Grade II listed building which needed refurbishing. Both are rated 'Good' by the Care Quality Commission.
"It's hard work but it's very rewarding, especially when families tell us how much we're helping their relatives.
"All three homes are in beautiful surroundings which bring massive value to our residents.
"We also believe in sourcing everything from local suppliers, from food to stationery, to help the local economy."
Matthew Conroy, Relationship Manager at Unity Trust Bank, said: "GSD Care's nursing and residential homes help to improve the quality of life for people in the local community and we are delighted to support them.
"They provide much-needed employment in the area and their commitment to buying from local businesses is to be applauded."