The Dental Management Partners (TDMP)
Published: 24 March 2022
Organisation Name: The Dental Management Partners (TDMP)
Region: South East
Dental group acquires another practice in Hampshire following seven-figure funding from Unity Trust Bank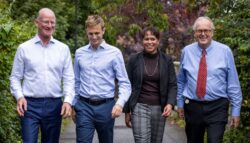 An independent dental practice group in Hampshire which has a large NHS contract has expanded its portfolio thanks to seven-figure funding from Unity Trust Bank.
The Dental Management Partners has used a refinance package from Unity to purchase a private practice in Winchester.
TDMP plans to combine resources in order introduce new specialist services and create a training hub for apprentices and nurses.
Jamie Chaplin-Rogers, Director, said: "We wanted to offer more services for patients privately as well as continue to deliver upon our contracts with the NHS and a fully private offering complements our other sites perfectly.
"At the new site we will introduce specialisms such as orthodontics, implantology and endodontics, and with only 3,800 patients there is room to accommodate an overflow from nearby practices which are heavily over-subscribed."
Eighty-five per cent of TDMP's 19,500 patients are registered through the NHS. It was one of the only dental practices in Hampshire to take on NHS patients in 2021 and was among a small number of practices around the country that provided care seven-days per week as an emergency hub during the pandemic.
Jamie said: "We chose to refinance with Unity because we were really impressed with their proposition and with our bank manager, Paul Kelly, who was pragmatic and keen to do business.
"Paul has very specific sector knowledge and not only understood where the market was going but understood the limitations on surgery availability that we had with our NHS sites. He saw the potential that we saw of expanding our service delivery through connecting sites and his experience was extremely valuable.
"Unity were particularly impressed with what we did during lockdown, providing emergency treatment for referrals from all over the county, as a lot of people in Hampshire wouldn't have had dental care if it wasn't for us."
Paul Kelly, Relationship Manager at Unity Trust Bank, said: "Good oral hygiene contributes significantly to people's overall general health and wellbeing and Unity is committed to supporting organisations that deliver health improvement services to their community.
"TDMP are experienced operators and have an excellent team and systems in place. We are delighted to fund their acquisition of a third dental practice."
Employing 54 people, TDMP has created two new jobs already in its new private practice and there are plans for up to eight more in 2022.
David Brewer, Managing Director of FTA Finance which introduced TDMP to Unity, said: "We work with all UK banks and our aim is to match our client with the most appropriate lender.
"This was a perfect fit because it was a complicated proposal which needed both the experience and flexibility that Unity and Paul Kelly could offer. Paul handled everything with patience and professionalism through to the day of completion."