First Minister Nicola Sturgeon has officially opened Glasgow's latest housing development of 49 affordable homes in a multi-million pound boost for Govan.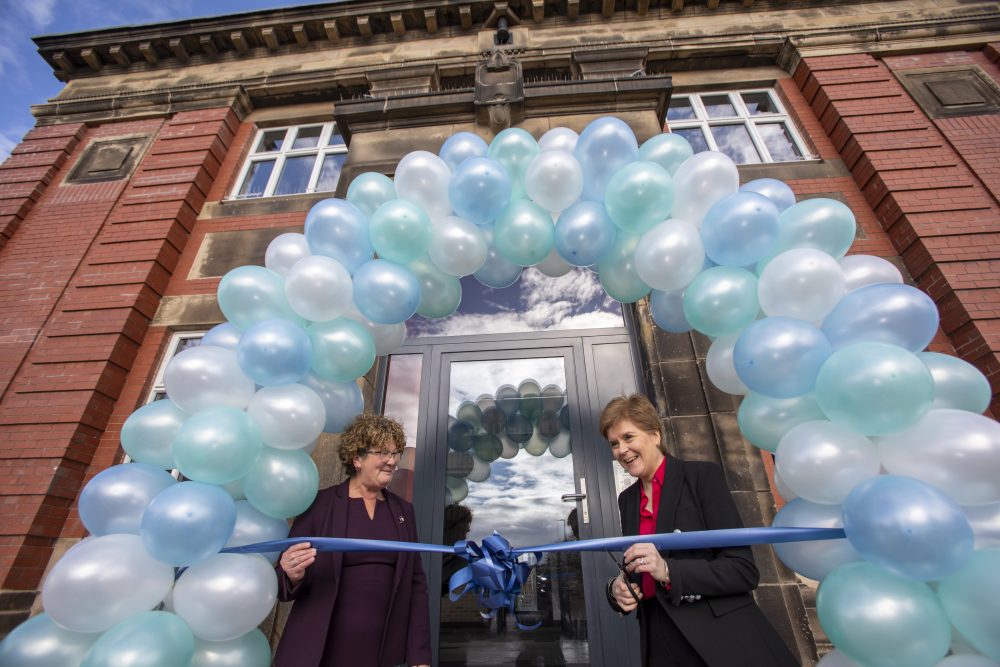 The stylish £10.2 million development at Cromdale Square by Linthouse Housing Association offers much-needed homes for affordable social rent.
It has been created on the site of the former Drumoyne Primary School with grant funding from Glasgow City Council and the Scottish Government and seven-figure finance from Unity Trust Bank.
First Minister Nicola Sturgeon opens the site
Ms Sturgeon is MSP for Glasgow Southside. She unveiled a commemorative plaque marking her visit on Friday, October 14 and praised the development. She also visited some of the properties and met tenants who had now moved in.
Nicola Sturgeon said: "It's a pleasure to cut the ribbon on Linthouse Housing Association's latest development. Developments like this one are a vital part of the Scottish Government's housing strategy, providing high quality social housing. This is particularly true when they can bring derelict and disused buildings back into positive use for local people. Govan has always held a special place in my heart and I'm delighted to see this latest addition to a great area."
Councillor Kenny McLean, Convener for Housing at Glasgow City Council, said: "It's great to see the completion of this development of much-needed affordable homes by Linthouse. These new homes will see this site brought back to life. It will act as another sign of the regeneration of the wider area. Once again, I am pleased to say that the council contributed to the delivery of more affordable homes in Glasgow."
Unity Trust Bank's support
Mark Smith, Relationship Manager at Unity Trust Bank, said: "As a socially motivated bank we only lend to organisations that address social, economic or environmental needs and we're delighted to support this housing development as it will have a positive impact in the local community."
The Linthouse Housing Association Development
The homes have breathed new life into the location where the school once stood – just off Shieldhall Road. The building had lain semi-derelict since the structure, built in the 1930s, was closed in 2010.
Contractors are leaving a nod to the building's scholastic past too. The familiar façade of the former "B" listed school has been retained and incorporated into the development.
This week Linthouse said it is delivering on its promise to invest in improving the quality and energy efficiency of existing tenants' homes. They are also building or acquiring new homes for social rent. The Association seeks to secure development sites close to existing homes – as in the case of Cromdale Square.
In turn, this increases the type and variety of housing available for affordable social rent to address housing needs. They're working with key partners such as Glasgow City Council and the Scottish Government.
Words from Linthouse Housing Association
Irene C McFarlane, Chief Executive of Linthouse Housing Association, called the opening a "huge step forward for affordable housing in our community." She added: "The transformation of this site into attractive new homes has lifted our tenants' and the local community's spirits.
"We readily acknowledge the financial support of Glasgow City Council and the Scottish Government who share our vision of creating new affordable homes for the people we serve in our community.
"Cromdale Square also contributes positively to the Scottish Government's target of delivering new homes for rent and we are proud to be playing our part."
Alec Leishman, Chair of Linthouse's Management Committee, added: "This is a landmark day for Linthouse and the wider community. We have created homes in the heart of our community at a time when they have never been more needed. And what a stylish development it is!  It looks great and provides fabulous new homes for so many people."
The development
The 49 properties includes a mix of 2 and 3 bedroom homes and apartments with four being wheelchair accessible. Interestingly, the former janitor's property has been re-purposed into a large family home. This again helps to preserve the link with the site's previous use.
The development was built by CCG (Scotland) Ltd. They have a strong track record of working with housing providers to deliver affordable homes.
David Wylie, CCG (Scotland) Managing Director, said: "Govan is an area well known for its rich heritage and is one in which CCG know very well. We have worked within the community for a number of years across a wide range of projects. We are delighted to have played our part at Cromdale Square where we have helped conserve a popular community asset whilst delivering much-needed affordable homes. "
The new homes have been designed by Grant Murray Architects. The engineers were Clyde Design Partnership and quantity surveyor Thomson Cost Consultants. Following the official opening ceremony, Linthouse laid on a series of fun activities at the development. They were designed to bring people together and to encourage them to meet their new neighbours.
Photography is being provided by Martin Shields tel. 07572 457000, email: martinshieldsphoto@gmail.com