On Thursday 8 March Unity Trust Bank and the Employee Ownership Association co-hosted an event at the prestigious British Library in London to mark International Women's Day.
Supporting the global call to #PressForProgress, Unity Trust Bank, a commercial bank whose mission is to help create a better society, and the Employee Ownership Association, voice of employee ownership in the UK, partnered to stage: 'Profit with Purpose: Empowering women through responsible business and employee ownership.'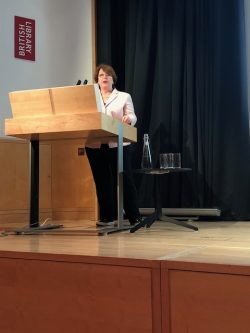 Hosts Margaret Willis, CEO Unity, and Deb Oxley, CEO EOA, opened the event by sharing insights into their career paths and personal experiences, leading into discussion about the role socially responsible business practices play in empowering women in business. The inclusive event invited over 130 delegates to consider the role we all have to play in helping build a fairer society.
Margaret and Deb welcomed keynote speaker Baroness Thornton, Labour and Cooperative member of the House of Lords, Shadow Spokesperson for Health, to the stage to discuss the need for broader diversity not just predicated on gender, including diversity in thought and boardroom decisions to be based on merit.
Baroness Thornton was followed by Dr Rebecca Harding, independent economist, who features on the 2017 Women in FinTech Powerlist, to present her work on 'Dispelling the Myths', which examined the misconceptions around socially responsible business, diversity in banking and business, and the gender pay gap.
Dr Harding's presentation, led into an interactive panel discussion, compered by Daryl Wilkinson, Director of Customer Propositions and Strategic Marketing at Unity, who invited audience members to drive the conversation on Twitter by submitting question using #ProfitWithPurpose.
The panel featured a broad range of expertise and viewpoints from Virginia Mead-Herbert, Managing Director of Childbase Partnership; Chrysta Poppitt, Senior HR Director of Turley and Alison Reid, CEO of Community Dental Service.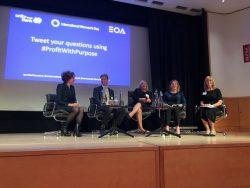 The open, and often candid, discussion covered points ranging from the one piece of advice panellists would impart to their daughter to avoid making similar career mistakes, to highly gendered workforces, and how to ensure all employees are given a voice.
What delegates said…
More
"Inspiring start to #IWD18. Loved the call for new types of diversity not predicated on gender. Boardrooms need diversity in types of thinking & inclusivity based on merit."
"This has been an amazing event which I hope will be repeated until it is no longer needed.  Thank you."
"Economist @RebeccaAHarding busting the myth that socially conscious businesses can't be profitable at International Women's Day event – Profit with Purpose #profitwithpurpose #pressforprogress @Fieldfisher @EmployeeOwned @womensday – at The British Library"
"Fascinating talk from economist Rebecca Harding on women in business. So much of interest so here's just one: diversity of business models a part of solution."
"Some very interesting and inspiring words from the panelist's @unitytrustbank Press For Progress event this morning. #PressForProgress #profitwithpurpose #InternationalWomenDay2018 @womensday @EmployeeOwned – at The British Library."
"Powerful speech from Margaret Willis promoting great socially responsible organisations delivering valuable social outcomes."
Baroness Glenys Thornton @GlenysThornton tweeted: "Thrilled to be at #profitwithpurpose Organised by @unitytrustbank and @EmployeeOwned @womensday event. Wonderful crowd #PressForProgess Great event thank you for inviting me to be there. Brilliant start to #IWD2018."