Unity Trust Bank has won a prestigious Industry Trailblazer Award. This recognises our exceptional leadership by promoting the Living Wage in its industry and supply chain.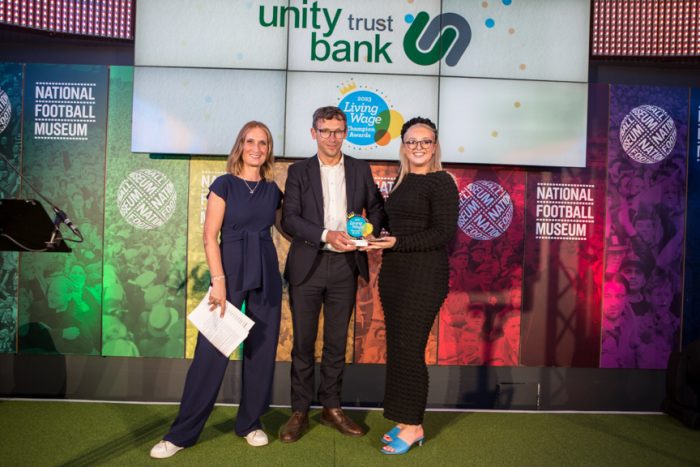 Last Thursday's Living Wage Champion Awards was organised by the Living Wage Foundation. Unity was recognised for going beyond just paying its staff the real Living Wage and setting the bar for employer standards within the banking sector.
Words from HR Director at Unity
Julia Tarpey is the HR Director at Unity Trust Bank. She said: "We are proud of our status as a Living Wage Employer and are delighted to have won this award.
"We proactively support Living Wage because it's evidence of responsible employment practices.
"We believe that all employers should be responsible and would like to thank the Living Wage Foundation for all they do to promote fair pay for all workers in all industries."
Unity Trust Bank is headquartered in Brindleyplace. It was named Business of the Year at the Greater Birmingham Chambers of Commerce' awards 2023. It was the first bank to become a Living Wage Employer in 2013.
The bank has built on that momentum ever since by introducing new best practices and awareness initiatives and in 2021. Julia joined Birmingham City Council's campaign to help Birmingham become a Living Wage City. This is an accolade it achieved last year.
Words from Director of Living Wage Foundation
Katherine Chapman is the Director of Living Wage Foundation. She said: "The Living Wage movement has never been stronger, and in the current cost of living crisis, it has never mattered more.
"Nearly 13,000 Living Wage Employers have recognised this and signed up. They ensure that everyone who works for them, including third party contractors like cleaners and security guards, earns a wage that meets every day needs.
"These awards celebrate the outstanding leadership these employers have shown in providing stability and security in their industries, communities, and wider society.
"They are leading the way in building a better and more equal world. I warmly congratulate Unity Trust Bank on their well-deserved award."
The annual Living Wage Champion Awards celebrate individuals and organisations that have made an outstanding contribution to the Living Wage movement.
This year they were held in at the National Football Museum in Manchester for the first time ever. This was in recognition of the strength and growth of the movement in the region.
The awards had 14 categories. They were supported by gold sponsors Aviva and Everton FC. Silver sponsors included Autotrader and Anchor Removals. The Industry Trailblazer award was sponsored by KPMG.