Unity Trust Bank has appointed Dominic Wade as its new Chief Financial Officer, to drive the bank's sustainable growth and social impact.
Dominic joins Unity Trust Bank with over 20 years' experience in the financial services sector, including 13 years at NatWest, where he held a number of senior positions including Head of Brexit Response and Head of Strategic Cost Reduction.
Headquartered in Brindleyplace, Birmingham, Unity Trust Bank supports businesses and organisations that share its philosophy to help create a better society and contribute positively to economic, community and social change.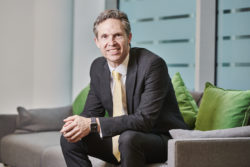 Dominic will build on the bank's strong performance over recent years, Unity recently announced an increase of £50m in net lending during the first half of 2020.  This included financial packages totalling more than £12m for responsible, accredited lenders of the government's Coronavirus Business Interruption Loan Scheme.
As Chief Financial Officer, Dominic is appointed to the Board of Unity Trust Bank and will hold regulatory responsibility and lead investor relations activity. He will work alongside Unity's Executive Committee to shape the bank's strategy and culture.
Commenting on his appointment, Dominic said: "I am excited to be joining Unity Trust Bank at a time when its mission to create a better society has never been more relevant. Recent events have highlighted Unity's role within the financial sector and how important it is for a bank to look after its customers in difficult and uncertain times.  I believe that Unity's unique, purpose-led proposition demonstrates how businesses can bank better to invest in the future of our communities."
Margaret Willis, CEO of Unity Trust Bank, commented: "Dominic's wealth of experience across strategy and risk management, alongside his financial acumen will be a real asset to our team as we navigate the ongoing economic uncertainty, continue to respond to the evolving needs of our customers and set the course which will enable us to fulfill our growth ambitions over the next 3-5 years."