Unity Trust Bank named Socially Responsible Lender of the Year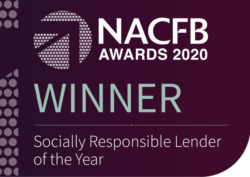 We are delighted to announce that Unity Trust Bank has received the prestigious accolade of 'Socially Responsible Lender of the Year' for 2020 by the National Association of Commercial Finance Brokers (NACFB) – the UK's largest independent trade body for commercial finance brokers.
The NACFB's annual ceremony took place virtually on Thursday 26th November, with 14 categories celebrating the breadth of talent across the sector from asset financers to CBIL providers, commercial mortgage lenders and more.
The 'Socially Responsible Lender of the Year' category was introduced for the first time this year, seeking to recognise NACFB Patrons whose core purpose is ethical banking. As we continue to deliver our commitment to support businesses and organisations that deliver social value, we are extremely proud to be the first recipients of this award, which acknowledges our work with Responsible Finance intermediaries, social enterprises, charities and other community-focused organisations in the UK.
In 2019, Unity distributed £13.6m to 278 customers, creating 1,188 bed spaces, providing housing for 437 people and developing 28 community facilities, as well as protecting or creating 672 jobs.
An additional £12.5m of affordable finance was provided to 207 organisations in the first half of 2020, including a £7.5m loan to the not-for-profit Business Enterprise Fund and £1.5m for Let's Do Business Finance, to support provisions of CBILs for hundreds of small businesses during the Covid-19 pandemic.
Commenting on the recognition, Regional Director Linda Martin said: "We are extremely proud of this award win, which recognises our commitment to driving positive change within the community. As our loan book continues to grow, so too does our support for organisations across the UK who are making a difference in society.
"We have really valued being a Patron of the NACFB since joining in July 2019, and it has been a pleasure working with the Association to highlight the support that we can offer the SME sector."