History and Shareholders
Unity Trust Bank was born out of the simple idea that trade unions wanted a different type of bank – a bank that was concerned with the creation of the common good. Bringing together the values of trade unions and the management expertise of The Co-Operative Bank, Unity Trust Limited – as we were then known – was launched on the 1st May 1984.
1984 – Our first mission was to make prudent, profitable commercial lending in the UK thereby supporting jobs, industries and the British economy
First few years spent developing banking facilities for our trade union shareholders and  providing additional services specifically to benefit trade unions and their members through a number of subsidiary businesses
During the 90s we increased our focus on the social economy, as society became increasingly concerned with fighting social and financial exclusion, which Unity supported by tailoring its products and services towards social organisations
At the start of the new millennium we began to innovate with services like Internet Banking and a dedicated telephone customer service team
We developed a new strategy in 2012 which saw us refocus our approach solely on the social economy, trade unions and wider civil society sectors, and we withdrew from providing services to purely commercial organisations creating no social benefit
Our founding statements are: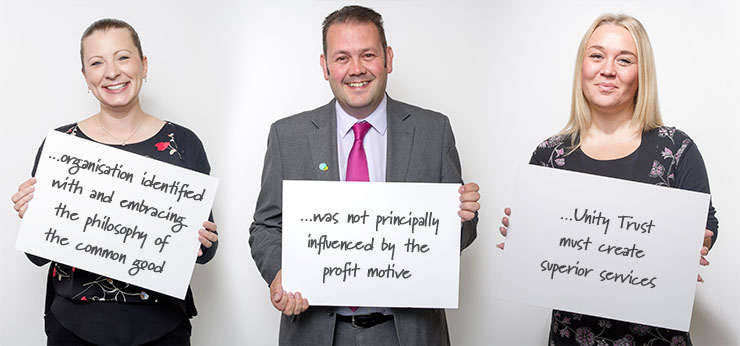 We continue to live by these principles today. Find out how in our About Us and Our Social Lending Impact sections.
Shareholders
Represented on the Board
Communication Workers' Union
GMB
UNISON
Unite the Union
The Co-operative Bank plc
Other Trade Union Shareholders
ACCORD
Associated Society of Locomotive Engineers and Firemen
Association of Teachers and Lecturers
BALPA
Broadcasting, Entertainment, Cinematograph and Theatre Union
Community
Educational Institute of Scotland
Fire Brigades Union
FDA
General Federation of Trade Unions
Musicians' Union
National Association of Colliery Overmen, Deputies and Shotfirers
National Association of Schoolmasters Union of Women Teachers
National Union of Rail, Maritime and Transport Workers
Nautilus International
National Union of Mineworkers
National Union of Teachers
Nationwide Group Staff Union
Northern Ireland Public Service Alliance
Prison Officers Association
Prospect
Public and Commercial Services Union
The Society of Chiropodists and Podiatrists
Trades Union Congress
Transport Salaried Staffs' Association
UCU
Unity
USDAW
Shareholders & Capital
Individual trades unions and trade union federations own 73.11% of the total equity capital of Unity Trust Bank plc (14.64% in 'A' shares and 58.47% in 'C' shares).  The Co-operative Bank plc, through its subsidiary Co-operative Commercial Limited, owns 26.66% (14.64% in 'B' shares and 12.02% in 'C' shares).
Certain individuals, including staff members, between them own 0.23% of the equity capital, all in 'C' shares. Total equity capital is £16,429,301.
The 'A' shares owned by trades unions and the 'B' shares owned by The Co-operative Bank plc have certain class rights attached to them concerning the election of directors and certain other matters referred to in the Articles of Association and relating to the control of the Bank.
Employee Shared Ownership Plan (ESOP)
In January 2013 the Bank established an Employee Share Ownership Plan (ESOP) enabling all qualifying staff to receive C Ordinary shares in the Bank. The initial distribution gifted to staff totalled 11,000 shares. Staff can also elect to receive further shares as part of the Bank's annual Profit Sharing scheme.