Unity Trust Bank stages inaugural Socially Responsible Banking Conference 19th May
Press Releases
Published: May 25, 2017 3:21 pm
On Friday 19th May, Unity Trust Bank staged its inaugural Socially Responsible Banking Conference at the prestigious British Library in London. The event, which followed the Bank's AGM, brought together over 150 delegates including shareholders, customers and business partners. They shared insights and customer case studies were hugely inspiring and informative.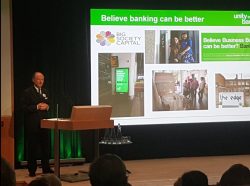 Hosted by CEO Margaret Willis and Chief Risk Officer Mark McEvitt, delegates heard from Margaret, Mark and Chairman Alan Hughes about Unity's continued progress in the past 12 months.
They also learnt more about our social impact, opportunities and ambitions as part of the bank's drive to make 'business banking better'. Delegates were also joined by a fantastic range of guest speakers:
Dr Rebecca Harding – CEO of Equant Analytics and formerly Chief Economist at the British Bankers Association, presented her views on the macro-economic environment and outlook, including a look ahead at possible post-Brexit Britain. Delegates quizzed Rebecca in a fascinating and engaging Q&A session!
Cliff Prior CBE – CEO of Big Society Capital spoke about his company's work, partnership with Unity, social challenges, social investment challenges and growth areas in the social sector.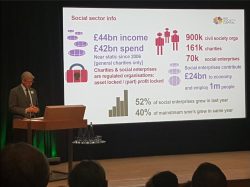 Sandra Hall – Co Director of Friction Arts talked about her experiences of Unity as a customer. She provided insightful and thought-provoking views about her business and how Unity has helped through a very strong relationship built on trust, honesty, transparency and the personal touch.
Amanda MacKenzie – CEO of Business in the Community discussed Unity's relationship with BITC and provided an overview of the importance of connecting business with the community and the role of a responsible business.
What they said
Delegates provided some terrific feedback about the event – here are just a few of the comments:
"Friday was truly magical….I have spent many years working for and on behalf of banking institutions and was honestly not expecting the wow factor that I felt on Friday, thank you"
"Innovation, passion and intelligent thinking into social infrastructure…really excellent"
"It was really encouraging to hear about the bank's work and its clear commitment to doing great things to support positive and enduring social and environmental change"
Share
View all news