Huntington and Langham Estate
Press Releases
Published: December 4, 2020 11:12 am
New finance expands high quality care offering at Huntington & Langham Estate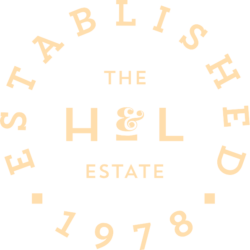 Lending from Triodos Bank UK and Unity Trust Bank has allowed for the refurbishment and further development of Langham Court, a specialist care home offering pioneering support for people with dementia. Funding will be used to create an additional 11 rooms – taking the total to 40 – meaning the home will be able to expand its innovative, high-quality care for the elderly.
Langham Court was constructed in 2013 and is situated on the 30-acre Huntington & Langham Estate in Hindhead, Surrey, alongside Huntington House, a nursing and residential home which was opened in 1978 by Marilyn Hoare.
The Estate is still owned and operated by Margaret and her family – husband Geoff and children Charlie and Sarah – who take real pride in providing the highest standards of care. Their holistic approach combines specialised training for staff with innovative therapies, supporting residents to live as full a life as possible.
Langham Court is a modern facility and finance from socially responsible lenders Triodos Bank and Unity Trust will also support the provision of new communal areas for residents including large dining and social spaces, offering views of the countryside. Langham Court also caters for non-residents, allowing the elderly in the community to access respite and daytime care.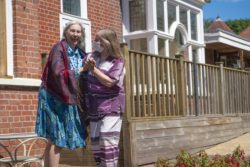 Charlie Hoare, director at Huntington & Langham Estate, proudly explains why their approach supports residents' dignity and quality of life: "Often, people with dementia can be confined to small, sterile spaces. Langham Court provides a blueprint for a model of care that truly supports the rights and freedom of people living with dementia. The new development work adds to the sense of independence we are trying to achieve."
Paul Nicoll, social and cultural lending team manager at Triodos Bank UK, said: "Our mission as a bank is to work for a society with human dignity at its core. We're proud to support high-quality, high-impact care establishments such as Huntington & Langham, and it's inspiring for us to work with Charlie and the team as they seek to realise their vision."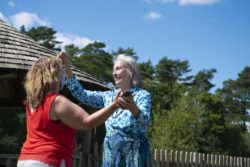 Matthew Conroy, relationship manager at Unity Trust Bank, said: "We are extremely proud to support the development of Langham Court and contribute towards an enhanced quality of life for people in the local community. Unity is dedicated to working with organisations that share our values and understand our vision to improve society. We are delighted our funding has enabled continued pioneering care to H&L residents."
Work started at Langham Court in March and is expected to be completed in spring 2021.
Share
View all news