Simple changes your business can make to help the climate crisis
Blogs
Published: May 3, 2022 11:37 am
A recent United Nations report on climate change shows that harmful carbon emissions are at their highest ever level – and it's 'now or never' to limit global warming. While this is an issue in the hands of the world's Governments, we can all do our bit to help reduce our carbon footprints.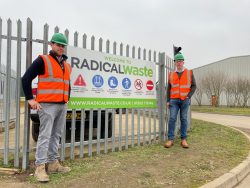 Unity Trust Bank is already playing its part to help protect the planet. All our operations and practices are aligned to the United Nations Sustainable Development Goals (SDGs) – a global framework to help achieve a more sustainable future.
This means we only support like-minded organisations that address social, economic, and environmental needs. We help organisations develop and improve facilities and services with a focus on key SDG themes, including health and wellbeing, community spaces and services, education, skills and employment, financial inclusion, and the environment.
Our 2021 Impact Report outlines the positive contribution we made last year to the communities we serve, such as achieving our net-zero carbon accreditation following an assessment by Carbon Footprint Ltd. We also contributed to the UK Tree Planting and Protecting the Amazon project, which plants a tree to offset every tonne of carbon dioxide equivalent and helps to offset our company's carbon emissions.
How can businesses help climate change?
You may think that operating your business in an eco-friendlier way is complex or expensive. However, it's simpler than you think:
Reduce, reuse, recycle
Use less water, paper, or packaging – and switch to recycled resources. Buy used furniture and equipment rather than new, and introduce recycling schemes across your business.
2. Choose sustainable suppliers
Look for suppliers who actively focus on waste reduction and improve their resource efficiency. For example, ISO 14001 is proof of commitment to environmental management.
3. Meet online
Cut road, rail and air travel for meetings or events which you can host on Zoom, Teams, or other online platforms. This will save valuable time and money, too.
4. Cut food waste
Cater for proper disposal of food waste, look into food waste apps like Olio and offer vegetarian and vegan options, which have a lower carbon footprint.
5. Go green for energy
Switch to a green energy tariff or think about installing solar panels.
6. Be more energy efficient
Look for energy-saving equipment, insulate properties, replace boilers, or change lighting to LEDs.
7. Offset your carbon emissions
From tree planting to investing in renewable energy farms, you can balance your overall emissions in a few ways.
8. Encourage car sharing
Incentivise staff car sharing to reduce the number of vehicles on the road. Using public transport for business trips is a lower carbon alternative, too.
9. Print less
Or go paperless, like we have at Unity Trust Bank!  Either way, it'll cut down on the resources you use.
10. Switch to greener vehicles
Whether you have one company car or a fleet, consider electric or hybrid vehicles. You could also install charging points – find out more from the Energy Saving Trust.
Our commitment to helping everyone be more carbon aware
In 2021, we became the first Carbon Literate Bank. As part of this, employees undertake Carbon Literacy eLearning to provide them with the ability and motivation to reduce carbon emissions on an individual, community and organisational basis.
There are so many changes that can be made to protect the planet's future – let's all do our bit to make a difference and positively impact wider society.
Share
View all news